See What Celebrities Wore to the 2022 Essence Festival
View On One Page
Photo 0 of 17
()
Start Slideshow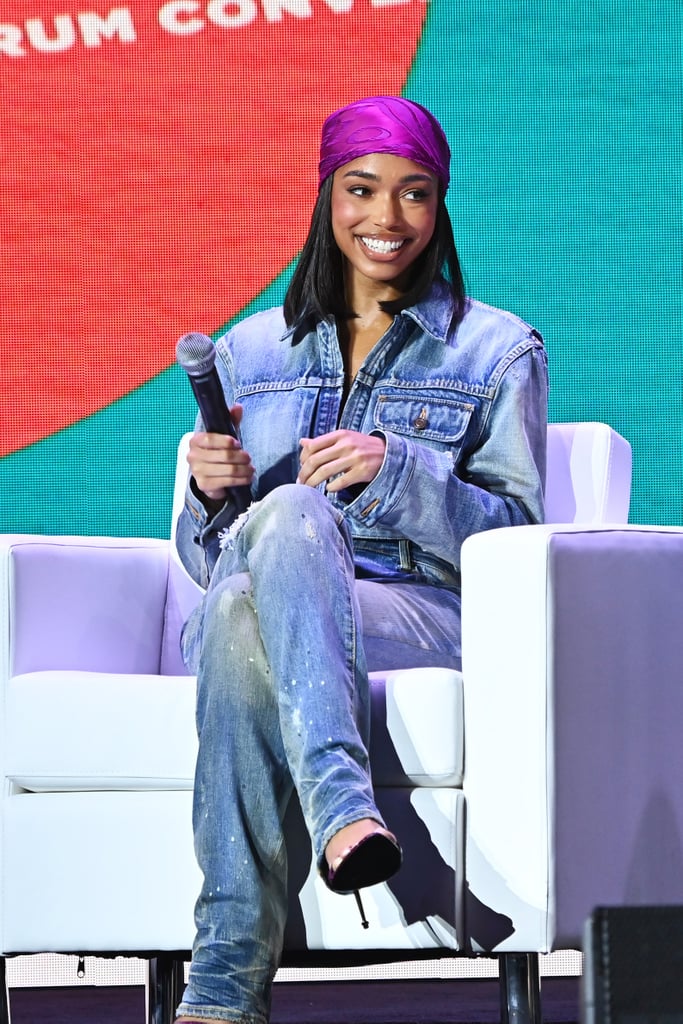 Share This Link
Copy

← Use Arrow Keys →
0
Lori Harvey Wears a Cropped Denim Jacket as a Top at Essence Festival

With "It's the Black Joy For Me" as the theme and headliners like Janet Jackson and Nicki Minaj, the 2022 Essence Festival delivered Black-girl magic, energizing music, and head-turning celebrity style. Minaj nailed her inaugural debut on the Essence stage on Friday, July 1, in a formfitting black velvet catsuit with a plunging bra top designed with two midsection cutouts. Meanwhile, Jackson made a sparkly return to the stage at the Louisiana Superdome in a black jumpsuit covered in sequins. The speakers were just as stylish, with Lori Harvey making an appearance on stage in a denim-on-denim look complete with a cropped jacket and blue jeans. She styled it with a silky purple headscarf and burgundy heels.
Other performers included Ashanti, who wowed the crowd in a hot-pink, off-the-shoulder catsuit with prominent sheer inserts, then a blazer-style bodysuit, left open to reveal the black lace bra she wore underneath. She also added a gold belt to her second look, as well as black gloves, large sunglasses, and thigh-high boots — taking Matrix-inspired fashion to cool heights. Lil' Kim also lit up the stage in a black shredded bodysuit, complete with a designer belt. The iconic rapper teamed it with a stunning lilac cropped jacket, featuring beads and embroideries throughout. She stuck to the embellished theme with black knee-high boots that were covered in colorful beads.
The four-day festival highlighted Black excellence with a busy schedule filled with career-advancement panels and musical and comedy performances, all while featuring Black-owned businesses. More notable attendees, speakers, and performers included Vice President Kamala Harris, Stacey Abrams, Lauryn Hill, Marsai Martin, and Janelle Monáe.
Read ahead to see everyone who attended the popular cultural event and what they wore.
Related:

Janet Jackson Wowed the Essence Festival Crowd in a Sparkly Black Jumpsuit
Previous
Next
Start Slideshow